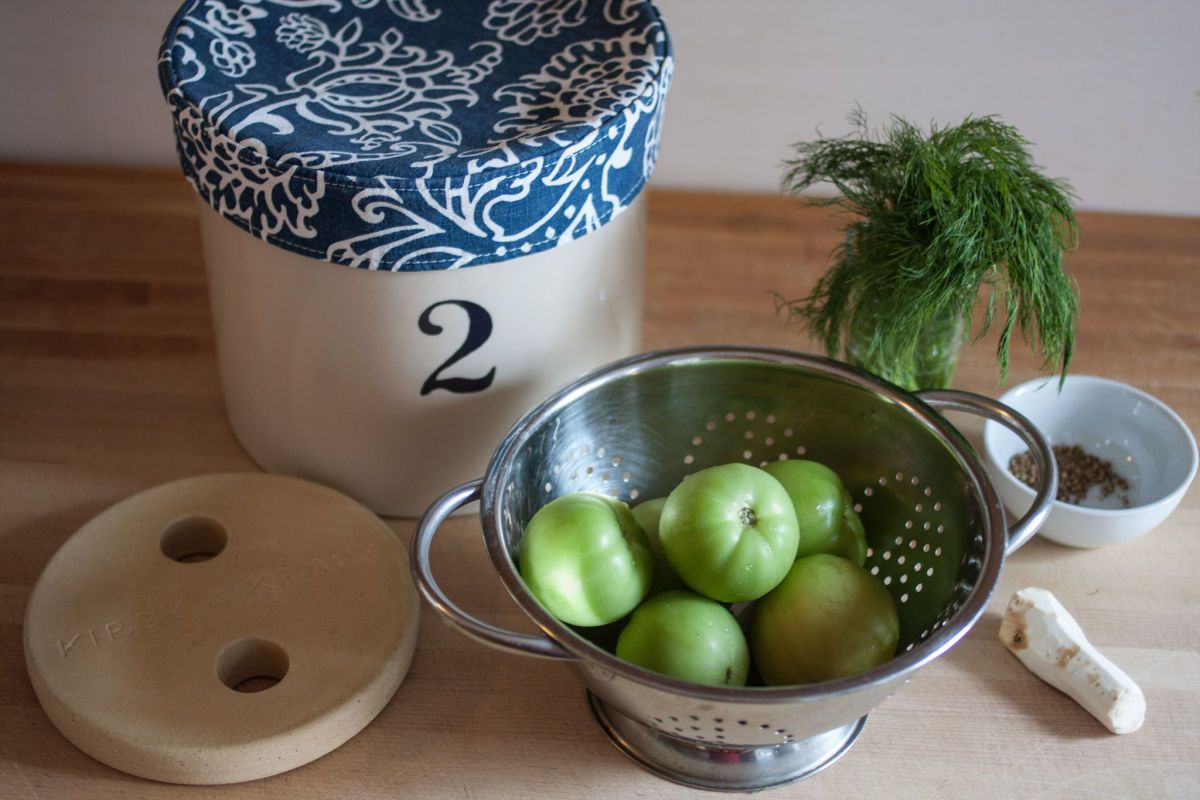 Making a small batch of fermented green tomatoes this afternoon. Pickled green tomatoes are great, but a little can go a long way, so we usually don't make too much at once. We're experimenting with two ideas today: slicing the tomotoes in half to help the brine penetrate the fruit, and once again adding a small amount of vinegar to the brine.
Fermented green tomatoes with garlic and dill, 7/27/2015
Two gallon fermentation crock
1½ lbs Green tomatoes
1 tbsp Pickling spice
1 tbsp Whole coriander
1 tbsp Grated horseradish
10 sprigs fresh dill
1 tbsp dried dill seeds
3 Cloves of garlic, lightly crushed
2 L 5% brine
3 tbsp Apple cider vinegar
Sliced the tomatoes in half horizontally and placed them in a single layer, stem down, into the crock. Bundled the dill fronds, grated horseradish, crushed garlic, coriander and pickling spice into cheesecloth and tucked into the center of the crock. Placed the weight on top of the tomatoes, added the 2L of brine which covered the weight by about one inch.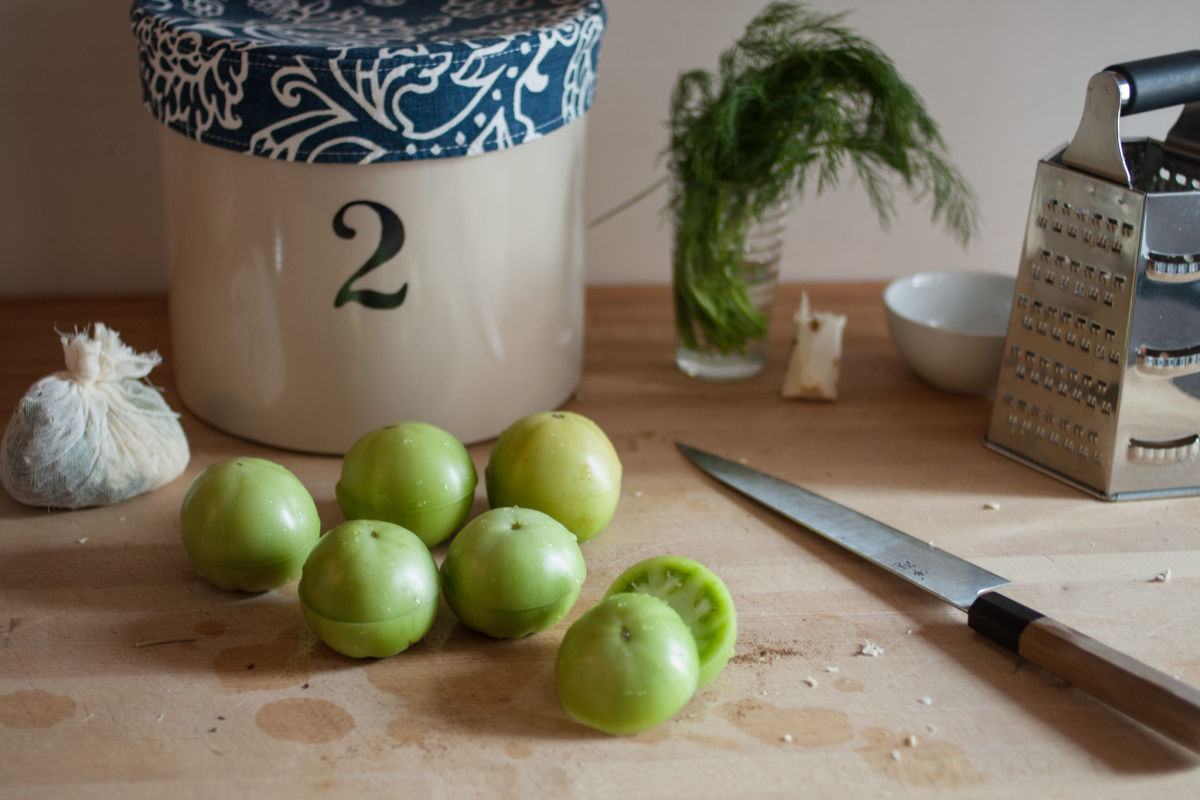 Green tomatoes can be so dense, the thought is that slicing them in half will help the brine and spices penetrate the fruit, adding flavor and speeding up fermentation.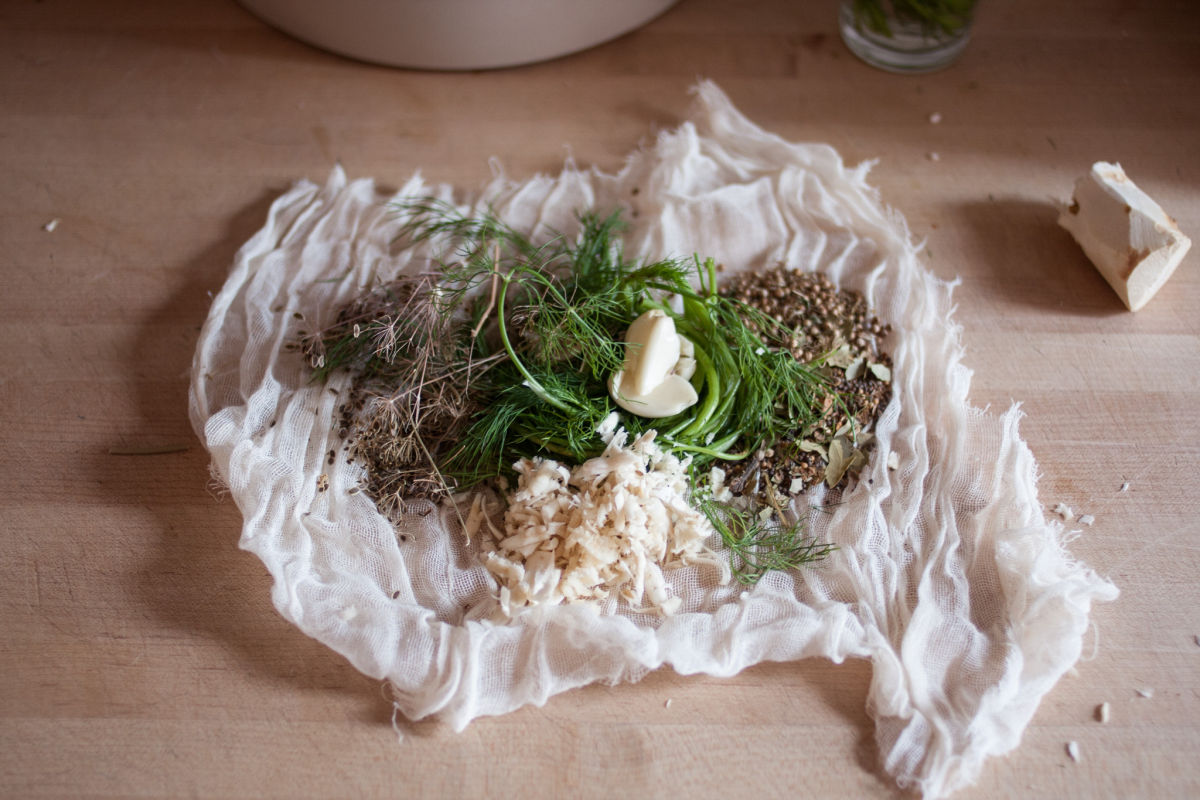 The spice bundle: never-ending dried dill from our garden, fresh dill, grated horseradish, garlic, coriander and the last of the pickling spice – there was only a teaspoon left!
The brine is just about an inch above the weight on top of the tomatoes.
Looking good on our kitten table.