About eight months ago, we got into a conversation with creativeloafer352 on Instagram about using pineapple in sauerkraut and she mentioned a Yule kraut she'd made using an exotic list of ingredients:
I've actually done the pineapple! I made an awesome Yule kraut with oranges, cranberries, pineapple, apple, cabbage, cinnamon, and star anise. I'm very impressed with how it turned out. It's sweet and sour.
With the holidays just weeks away, we decided to take our own stab at Yule kraut, incorporating pineapple, cranberries, lemon, orange, two kinds of ginger, allspice, nutmeg and clove.
Yule Kraut, 11/16/2014
1 large (3800g / 8¼ lb) cabbage
2 cups Fresh Cranberries
2 Oranges (345g, organic since we're incorporating the zest)
1 Lemon (135g, also organic)
1 Pineapple (900 g after peeling and coring)
1 tsp Whole cloves (ground)
1 tsp Whole Allspice (ground)
1 tsp Nutmeg (microplaned)
½ tsp Powdered Ginger
1 tbsp Grated fresh Ginger
Sea salt (2%)
All the ingredients were prepped into their own bowls before combining in the crock. Halved, cored and shredded the cabbage. Sliced the cranberries in half lengthwise. Zested and juiced the citrus. Ground the whole spices and combined with the powdered ginger. Grated the fresh ginger. Peeled and cored the pineapple and cut into 1 inch chunks. Added the ingredients along with 2% salt to the crock in three equal doses, mixing gently to prevent crushing the pineapple. Submerged the mix below the brine using the crock weight and covered with the cloth top to ferment.
A close up of the spices. I decided to go with my go-to pumpkin pie blend: allspice, nutmeg, ginger and clove. The lack of cinnamon is intentional – I don't really love cinnamon mixed with other spices. I've really enjoyed the double ginger in our pickled carrots and watermelon radishes, so I went with that combination here.
I thought whole cranberries could be too explosive in finely shredded sauerkraut, and thought "I'll just slice them in half." After about the third cranberry I thought I was insane to cut them by hand and decided to time the process to get a sense of just how long it would take. In the end it wasn't that bad – just under 5 minutes. I could probably do this in a food processor, but I think this will be very pretty.
Assembling the spices. Fresh ginger; allspice and cloves to be ground, powdered ginger and microplaned nutmeg.
Zesting the citrus on the microplane and then juicing. Never works the other way around.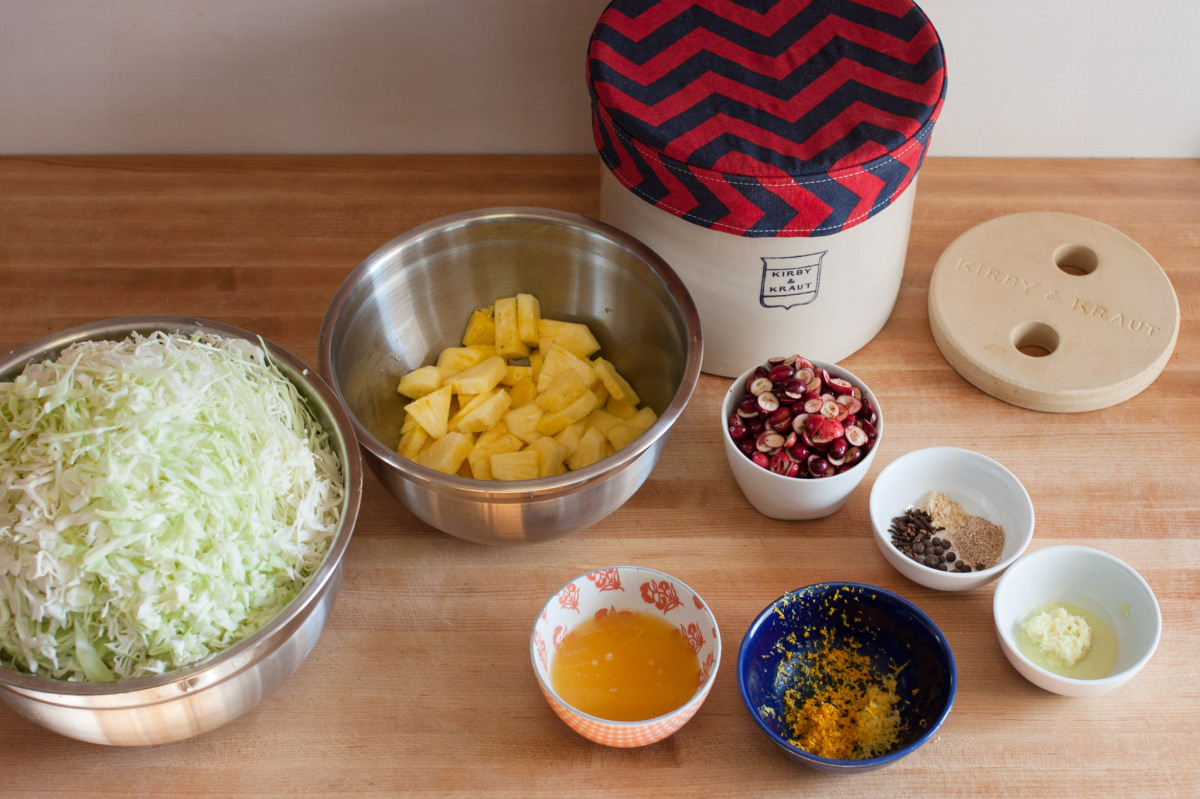 Mise en place – all the ingredients, ready to be mixed in the crock.
Rather than our usual process of creating a 2% brine in the crock by adding 20 g of salt to each 1000 g of cabbage, we went with 950 g of cabbage + 300 g pineapple + 25 g of salt (2% of 1250), then added roughly a third of each of the zest, juice, cranberries and ground spices. I tossed the mixture as gently as possible to prevent crushing the pineapple. It smelled wonderful – the aroma is predominantly orange oil and clove.
The pineapple released ample juice for brine and the mix was well submerged without needing to pressing down on the crock weight. The brine tastes very much of cloves and salt, but we'll see how the flavors blends as the sauerkraut ferments.